How to find Bad Vs Good App Development Company
Almost 98% of our customers who come to us either have tried developing the app with other developers, freelancers or other development companies. Customers have burnt a lot of cash before even seeing anything and most importantly their time and the stress they went through.
I was discussing with my friend and co-founder (MacAppStudio) George on this and we have felt a lot for customers and sometimes for developers. I am going to share some of my thoughts on the same.
Say now you have an idea which you believe will be a breakthrough enough to change your live and other lives.
Questions to be Asked Yourself before approaching any developers or company
Nobody can validate the idea except You and GOD
Everyone believes in their own idea and they believe it's the best one and no one has ever done it.
Rule No 1 : Never listen to others.
I always say never listen to others, nobody can understand your idea better than you and nobody can validate an idea, Only You and God can validate an idea. If Facebook founder had asked shall I start facebook obviously the answer would have been No, there are other sites before Myspace, Friendster and much more… but still, he went ahead with his idea

Is this idea born out of a passion or instant gratification?

Ask yourself is this idea is born out of a passion which solves the problem or makes people lives either simpler, easier or happier. I see many people reading the Flipkart, OLA, SnapDeal, Paytm and many successful startup stories and immediately want to jump into it immediately the next day with an idea just in the dream to make millions of dollars.
Never Chase Money, it will never help you.Chase Your Dream, Do it with Passion
Are you clear in what you want to do :
Are you clear in what you want to do, you should be crystal clear in what you are planning to do, if your vision is not clear, nobody can follow it and neither can build it? Ask yourself many questions about the problem that you are trying to fix. Most of the times if you had faced the problem yourself the chances are very high to win because you know the pain point and you also know what can fix it.
Are you ready for the risks :

We are most valuable developers, Intel BlackBelts, had talent, skill, worked hard day and night, started with 2,00,000 USD Prize money but still, success just doesn't come straight away like A to B. Are you ready to take risks, are you ready for the game?

We went on to Zero and then went on to built multi-million dollar company.
Will your idea give high value and also some money :

Will your idea give high value and nobody runs a charity end of the day it's a mutual win-win for every stakeholder, the problem that you are fixing with the idea or value that you are giving with your idea is it worth for them if it is, they would happily pay for you and its a mutual win-win.

Traits of Bad Development Company :
Saying YES to everything :

Right from the start if the developer/company says YES for everything ( it may be your huge requirements, less money ) you are saying, that means, something is not right.
Desperate to get your project :

There is a slight difference between enthusiastic and passion rather than being desperate. If someone is desperate chances are high they say YES and do anything just to get your project.
Quoting low price :

Each and every product has a price and if you want iPhone for 10,000 or a Benz for 10 Lacs either you get a fake product or you never get the product.
Not ready to be partner or be ready to be part of the journey :

Building an App is a journey. Its a commitment and it never stops there, its a journey and they should be ready to be partner. If the company or the developer is not ready to be the partner then there is a huge risk, they may leave you in the middle of a sea.

You can come to them as you are its not your strength and they have to honor and be with you tough times rather than not picking the call / not answering emails and running away.
Asking for full or large payments :

If the developer believes in your product and if he believes he can deliver the product he would be ready for milestone payments. We have seen many customers who have given 100%-80% advance or in design phase without even writing a single line of code.
Not Showing the product or not being transparent in the process :

Ask the developers to show the results in an agile model. Its like building a beautiful house. Have a plan ready, have a budget ready and do release it phase by phase. Where you can see the progress, you can see your own baby growing and you should know it may not run in day one but eventually you can see the features being added.

Have milestone payments or ask part of the payments to be in the success of the product, we have even got part of the payments even after 4 months after releasing the product.We knew they would work and succeed. Its all playing strengths. We develop, they do the business, we all win together.
For Customers, while starting the development
Do the Best or Don't Do it :

Building an average or crap product for cheap is high risk, its better not to do it rather than doing it cheap and half-baked. Even if you are doing small or just one functionality do it the best. Google just started as the search engine and does only search and they do it simple and best in class.
Don't confuse with vision and overkill the product or an idea :

Each and every idea has a shelf life, it has its own momentum and energy. Don't overkill the product, WhatsApp, google, facebook all started small with basic functionalities and then they expanded. In Overnight you can't build a palace, you can built one brick at a time and over a period you would have built a palace.
Build what's core, what's basic and working one. Complete the loop :

Focus on building great product rather than searching investors or Networking. For Vada Kadai, first, all you need is Great Vadai. Then you can add many things later including registering a company and a fancy office with interiors.

George always says complete the loop. Take something small and complete the loop
Fail Small and Fail Fast :

Failure is part of the process, so be ready to fail but make sure its small and you fail fast if you fall from 100th step the risk is more lets fail small from the first step and fail fast. Do a Minimum Viable Product, sell it make money and then invest it back.
Be Open and Be ready :
Most of the problems with customers is, they never be open with their budget or issues and situations. If you try to hide and think to cheat developers or company it would be reflected in the product. Be honest, be transparent, be truthful and be understandable.
Have an Advance Cheque ready :

End of the day its bread and butter for developers and companies. Its their time. Don't waste your time and their time unless you are serious in the business. People understand situations so tell them you have x money and you can pay y advance and remain will be paid in z months. Talk with an advance it shows how serious you are.
Product and Success is a Mirror of how you approach it :

If you are honest, truthful and be open and your intentions are good, your product will be great and your success will be great. If you make timely payments, you get timely releases, people pay for your products. Its a butterfly effect

See the Value and Not Money
We have seen many customers who want to do cheap and had cheap developers and cheap products which in turn have cheap value.
You get what you give as an ingredient if you put cheap in and expect great out its logically never possible. Always see the value and not the money. If you expect a website there are thousands of developers who does it from 10K to 100K. See the Value how much the company can help you as partners to bring that value which in turn will bring you millions of dollars.
Be Ready to invest at least 10-20% of your dream :

People expect WhatsApp for 10K, Instagram for 20K this will never happen. If you want 10 million at least be ready to invest 100K or 200K towards building a great product.You can always start small and built big.

How to be a Good Development Company ( What We Follow )
Being Selective in the projects :

We are very selective with our customers and projects, we never take projects that deals with casino, dating, we never take sub-contracted projects or projects that are not owned by them, because customer only feels the joy, clap, cry and hug for every release only if it's their idea. It's like their baby for them. Making products is passion and not just for money.
It is all about great end product :
Customers are not GOD. They are Friends.
People say Customers are GOD, We say No, They are friends. When it's GOD you never ever say NO or argue, you roll your head for everything every time. When they are friends, we argue for the best intentions of the product, we fight, we hug, we cry, we laugh together and be it tough times or happy times we are together forever.
100% Refund if things didn't work out for either of us in 15 days :

We give 15 days both for customers and for us, if things didn't workout we give 100% refund without asking any questions, we wish them all the best. End of the day its all about money that is earned with happiness that will stay with us.
Respect Developers and their Decisions :

We believe you, so we expect the same. Trust our technical decisions its in the good will for the product to be scalable and we go native and with vanilla stack and not with any fancy kinds of stuff or high end fancy words.
Time vs Cost :

People who come to us, come with head under the bus. A Customer said this to us " My head is under bus save me" We did everything to save them we made the product in 1 month which has taken 1.5 years and he was answerable to the investors.
We do the best to create the core thing of the product and later on add things. Even with money, resources still a baby needs 9 months to grow similarly for a product you need at least 1-6 months based on the complexity. Don't come to us that we need it tomorrow 🙂
Milestone Payments :
We always recommend and take milestone payments only after successful releases which will help both customers to see the release and then pay for it.
Trust and Verify :

We have never met our customers directly unless we have finished the product, so what we do to built that trust. We built basic prototypes in 24-48 hours or take the toughest feature and built just that to show them. Once they see it in real they get along.
We have never met any customers directly. We have only met them after a year of successful releases for their funding, we went as Technical Guys to back up for 5 days US Trip.
Don't Take it for Granted :

We are there for your emergency always.We hate long meetings as clients but not as friends, we have the process and we make sure meetings don't go beyond 12-15 mins. Lesser time, it helps to be prepared what to be asked for and clear in what we want. We keep everything transparent.
Believe in People and in Process :
We believe in people and in process, Once you have requirements we have each and every check and balance to take you through
Play on Strengths :

We only play on our strengths, similarly, we expect customers to do, we take care of technical things, anything logical is always possible technically. You play in your area of strengths and it helps everyone.
To take it forward from an idea to app it requires a great team with not just talent, but transparency, honesty, ethics, attitude, passion and to make something with love and also with great skills.
Every Project that we do is like a war, we do or die, a single mistake may cost many lives, so we win as a team or die as a team there is never looking back.
P.S. This Post was written on a good note to save both customers and developers. It might not be an ideal way, each has their own way, own values, and principles. This is just to share our ideology and principles that we follow.
---
Disclaimer: This is an Contributor post from Mr.Sureshkumar Gunasekaran (CEO & Co founder of MacAppStudio and BlueInnovations). The statements, opinions and data contained in these publications are solely those of the contributors and not of TamilEntrepreneur.com.
---
---
Please Read About Shortfundly Platform :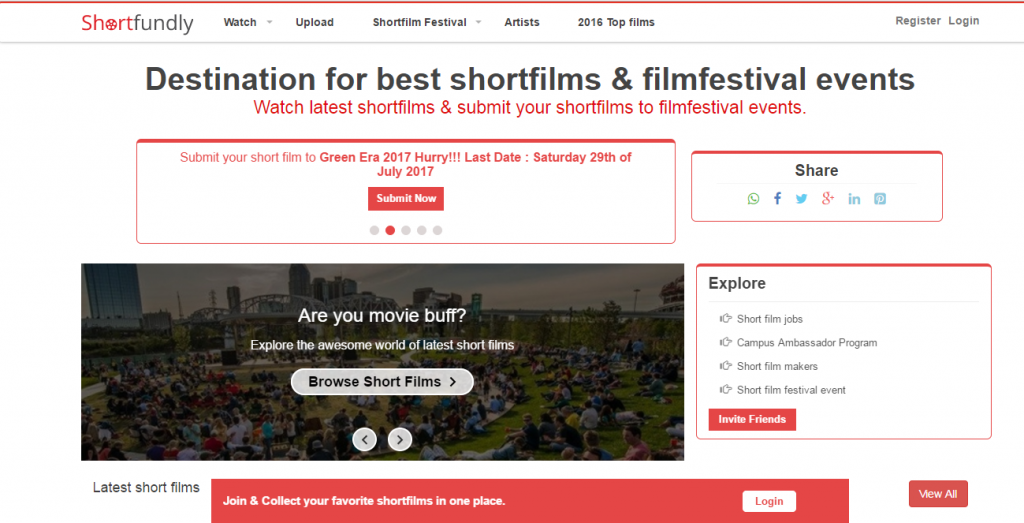 Shortfundly : Platform to help Short Film Makers and Short Film Event Organisers to get connected
---