Conversation With : Sampad Swain is the Founder and CEO of Instamojo
Sampad Swain, ​CEO & Co-founder of Instamojo​, Instamojo is the easiest way to sell online and collect payments for your products & services in India – with a link, on your website or social media.
India's largest on-demand payments platform that powers 200,000+ individuals & SMEs to accept online payments with just a bank account & phone number.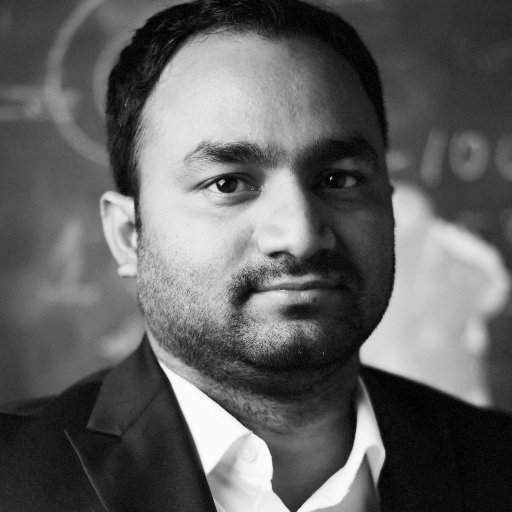 Last month, Instamojo​ released their native mobile app. This mobile app is first of its kind that allows anyone across India to just download and start accepting all forms of payments like cards, net-banking, wallets, UPI in few minutes via SMS, WhatsApp, Email, Facebook etc on-the-go​ without any physical paperwork or website integration.
Instamojo​ ​was originally incubated in Silicon Valley as part of 500 Startups accelerator program. Previously, Sampad Swain co​-founded​ Wanamo, a marketing platform for hyperlocal SMBs which was later acquired.
Sampad Swain chated at Yourstory.com with their readers about product development, hiring and retention, product distribution and design & data analytics. we have given this aligned conversation.
---
Asked by Aayush Jain :
Instamojo is for SMEs but PayTM is for public. How would you compare other stream of Fintech startups that is really doing good in the market. ? And if Instamojo is planning to become the next Fintech Giant, like Paytm, then how ?
Replied by Sampad Swain :
Acquire 10 Million+ MSMEs and help them start, sell, manage and grow their business where Instamojo becomes 360º digital partner for every individual & small business customer of India.
---
Asked by Himanshu Chudasam 
Every startup throws discount or cash back and expect someday customer will be loyal to them, but according to me customer loyality (in terms buying from only channel) has gone due to too much of throw back.. whats your take?
Replied by Sampad Swain :
IMO Indian customers are loyal, albeit loyal to discounts & cash-backs today. Good part is, few are spending millions to teach and help them adopt digital. However, they are setting it up for the next generation of entrepreneurs to leverage this asset class. Hope many today are those few remaining to enjoy the benefits too 🙂
---
Asked by Aayush Jain : 
What are the new trends coming up in fintech industry and how Instamojo is planning to catch up with them ?
Replied by Sampad Swain :
Abstracting "context" from transactional data is the NEXT BIG THING. We at Instamojo are super excited about this opportunity.
---
Replied by Sampad Swain :
Take bigger risks.
---
Asked by Aayush Jain
Hi Sampad, what was your marketing strategy in the initial stage of Instamojo that helped u reach this level ?
Replied by Sampad Swain :
"Sharing the IMOHO link to collect payments" was the biggest growth hack for us and still continues to be the case. Proud to say, till date almost 80% of acquired merchants are via organic channels like WoM and referrals.
---
Asked by Vivek Khandelwal
How did you zeroed down on your core team initially? Is it still with you?
Replied by Sampad Swain :
Complementary skills and intellectual honesty. 65% are still with us.
---
Asked by Chitbhanu Nagri
What skills / competencies do you mandatorily look out for when hiring for leadership role?
Replied by Sampad Swain :
Ability to change and adapt.
---
Asked by Sneha Maselkar
Who is your biggest inspiration- A celebrity figure?
Replied by Sampad Swain :
Sorry, never kind of liked the idea of being inspired by folks whom I don't know personally 🙂
---
Asked by Nagesh Bansal :
What is the first thing you do after waking up in the morning?
Replied by Sampad Swain :
Check my phone and I hate doing it. I'm waiting for the day to give up on phone completely 🙂
---
Asked by Chitbhanu Nagri :
Who have been your biggest inspirations and what have you learnt from them that you could share with us? Any specific learnings, that we can imbibe?
Replied by Sampad Swain :
My father is biggest inspiration. Never give up!
---
Asked by Sukin shetty  :
How to launch a startup in a market where already competitors are well settled?
Replied by Sampad Swain :
Look at opportunities to reduce cost, create better experience and hopefully enjoy network effects. Combining all 3, hopefully there's options to make money too.
---
Replied by Sampad Swain :
"Responsibility" I hope!
---
Asked by Pravin Singh :
Is there a forum in Instamojo or elsewhere where all the sellers congregate and can discuss on certain topics?
Replied by Sampad Swain :
We have whatsapp groups and slack channels.
---
Asked by Dipti Nair :
Hey Sampad, what do you think of the sexual harassment controversies plaguing Indian startup ecosystem and Silicon Valley right now?
Replied by Sampad Swain :
We should call it out proactively.
---
Asked by Kunal Walia :
Do you think Payment Cos (including Wallet) are making the same mistake as eCommerce cos by focusing on GMV/TPV instead of revenue?
Replied by Sampad Swain :
If you are given the valuation to focus on GMV "today", then why not. However, if I'm the 2nd, 3rd or nth player I should re-assess the situation IMHO.
---
Asked by Ankit Sakhuja :
What do you think is the future of wallets ?
Replied by Sampad Swain :
Unfortunately, wallets are still a regulatory arbitrage play. Standalone wallets can't survive. But it married with commerce & enabling ecosystem, it's a big win-win.
---
Asked by Pravin Singh :
What are some things to Focus on and avoid in hiring based on project basis only? (eg: freelancing jobs)
Replied by Sampad Swain :
Keeping the expectations clear on both sides.
---
Asked by Pravin Singh :
What is a unique niche on data analytics (specifically website/app analytics) that no-one is focusing on? What are some problems to solve in these?
Replied by Sampad Swain :
"Revenue Optimisation".
---
Your suggestions on how can we make India (or a City), the top destination for startups ?
Replied by Sampad Swain :
Liquidity for employees, investors and founders.
---
Have you ever compromised innovation over technology ?
Replied by Sampad Swain :
Technology is an enabler to innovation. They are not siloed bucked IMHO.
---
What is the future of digital payments in India? Where can we see payments bank in the next 5 years?
Replied by Sampad Swain :
Future of digital payments is absolutely amazing because payments is a 1st principle problem. On paper the concept of payments bank is great but I think execution is where the devil lies. Lets see…
---
Why you are not yet with mobile?
Replied by Sampad Swain :
Hey, we launched our android app. iOS will also be coming soon. Not sure what you mean?
---
If you could change one thing about the startup ecosystem, what would it be?
Replied by Sampad Swain :
How media looks at startups (early, mid or large scaled) and creates false narratives based on revenue pressure:-)
---
Post demonitisation all of a sudden we see so much buzz around UPI, digital payments etc. Now with Govt's BHIM app in this race to woo customers, dont you think its confusing them. On one hand we have private players and on the other hand we have Govt pushing to go cashless, and then we have banks wooing them. What is your take on this? By the time you answer this query, we will have few more startups working around the app economy 🙂
Replied by Sampad Swain :
I think it's great. Much needed to move an inch in merchant & consumer payments domains. Yes, many will die but the few private players which survives will create enormous value for India.
---
Why the name Instamojo?
Replied by Sampad Swain :
Insta – Instant Mojo – Magic Luckily, what we do is what the brand name implicitly does too!
---
Hi Sampad. Good to see you here. Storytelling is an important part of building a startup. But if the gap between the story you tell and what you actually do is too wide, it can lead to serious reputational crises (see Uber for instance). What are, say, three things you believe every entrepreneur should do to keep their stories authentic? Thansk for your time.
Replied by Sampad Swain :
1. Speak less, execute more (if possible quietly) 2. Speak only of things you *really* believe in (not what others believe) 3. Stay away from limelight as long as possible
---
How is your product better than other UPI integrated apps?
Replied by Sampad Swain :
Better or not, guess it's upto you to decide. But if you have used Instamojo, hope it wasn't ambiguous. However, to put it straight we are the only solution at scale today which allows anyone, anywhere to accept all modes of payments incl UPI across multiple channels like SMS, Whatsapp, Email, FB etc with just a bank a/c and phone number instantly. So we are a payments platform, not a payment mode.
---
Replied by Sampad Swain :
Weirdly, I have thought long & hard about this question. Unfortunately, I haven't come across anytime in my network so far.
---
Hello Sampad, if you have to share one of those tweet draft of yours here from your archive which one would it be?
Replied by Sampad Swain :
Here's one – "I don't see banks becoming fintech startup and fintech companies becoming banks, ever. There's a BIG reason why. Let's ponder why!" 🙂
---
Which tool you prefer to design a product & on which basis we should decide back end technology for products?
Replied by Sampad Swain :
For design, we have multiple products of Adode creative suite, invision for prototyping and Sketch app. For backend, there's no one answer. However, we started off with Python on Django!
---
With the growing convergence of players from Airtel to SBI, Paytm, banks and now BHIM app, where do you see the Indian payments market go in the coming years?
Replied by Sampad Swain :
I am very optimistic of overall payments market. So far we have seen multiple solution for consumers. However, very little for merchants especially the emerging new class of merchants like individuals, freelancers & SMBs. My feel is next wave of solutions will emerge that them across the board.
---
How important is Customer Service for you? Why are the market sentiments so low towards InstaMojo in this area?
Replied by Sampad Swain :
Absolutely necessary & important. I don't think there's any escape on that front for an emerging market like ours. On sentiments, it's always useful to quantify it. Our NPS score has been consistently above 60 and our appstore ratings today is ~4.4 But surely we have do much better and that's exactly what team IMOJO is working hard so that the experience of using Instamojo to get started with your 1st online sales is as seamlessly and frictionless as it should be.
---
Asked by Monika Prasad :
which start up you have seen more success – product based or service based?
Replied by Sampad Swain :
Success is what sense? In $ value, product based companies making a mark has a long way to go. However, we have a 40+ yrs history of services based business. So IMHO, it's little too early to call out success either ways. However, I'm very bullish on product based companies out-doing services over the next 5-10 years.
---
Cutting cost for a business to grow.Is it the right approach ?
Replied by Sampad Swain :
Hate to answer but "it depends". IMHO cost-cutting only makes sense if you are able to grow your business post arresting the cost or lowering expenses. For many early stage startups, it's hard but not difficult.
---
Asked by Sumnesh Salodkar :
Where all do you see the application of escrow services in near future?
Replied by Sampad Swain :
Very interesting question. With my limited experience, I feel that many of us have not been able to make use of "escrow" services to instil trust amongst users so far. But my optimistic guess is many are working in this field today which is great.
---
Asked by Karan Doshi:
What advice do you have for founders studying in college?
Replied by Sampad Swain :
"Don't take yourselves too seriously" 🙂
---
Any form of meditation you practice daily to keep yourself focused?
Replied by Sampad Swain :
Asked by Vikash Khandelwal :
If a startup entrepreneur is running short of funds to the extent that the company will run out of cash if it did not raise cash then whats the best way to approach investors where the company has been bootstrapped and has decent traction
Replied by Sampad Swain :
Unfortunately, investors never invest if they know that you are running out of cash and vice-versa is also true. So my suggestion would be to forget outside $$$ coming in and try to break-even ASAP and hopefully you're able to grow, then speak to investors.
---
Asked by Taher Dhanerawala :
Fr a new entrepreneur, if the idea is rock solid. But investors are not willing to invest. Than what should be the next step?
Replied by Sampad Swain :
Depends on your belief on the very idea. Please don't start up to raise money. Many tried and majority failed. So empirically, that thesis hasn't been proven yet so far.
---
How should a founder of a startup think when he feels funds are less to scale his business?
Replied by Sampad Swain :
You've 3 options really – Break-even, Shutdown or Salvage in the order of difficulty.
---
Asked by Abhishek kumar :
How to get merchants onboard for a logistic startup?
Replied by Sampad Swain :
Don't have too much experience there. Have you tried to explore channel partnership route?
---
Note From TamilEntrepreneur.com : This conversation happened on Yourstory.com and has been reproduced. Courtesy : Yourstory.
---