JAYAVILLA —  A Space to collaborate with Madurai Startups community
Founded by Lakshmi in 2013, JAYAVILLA with its objective of becoming a powerhouse of innovation in both technology and design for clients across the globe has come a long way in its short but highly successful journey.
For Lakshmi, the lack of product building experience in the IT services industry was an 'opportunity' that they used to build their company whose clientele today includes names like EdTigre, Chendras, RainStock & ServWing among others.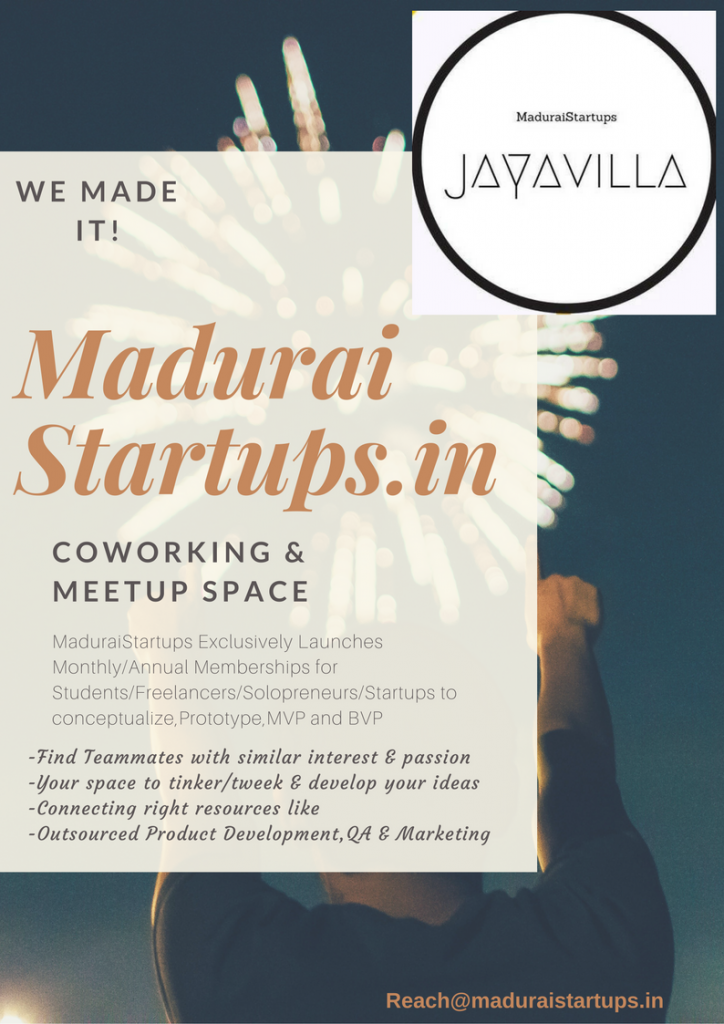 She is now ready to their entrepreneurial journey into next phase by becoming connector of tech-funding institutions like Amazon Web Services (AWS), Microsoft BizSpark who are investing in start-ups across the country and helping to raise the maturity of the start-up ecosystem in India.
We spoke to Lakshmi, Founder and COO, JAYAVILLA to know more about their venture.
JAYAVILLA — A Quality inspired co-working Villa :
The core idea behind JAYAVILLA Space, according to Lakshmi is to help budding entrepreneurs grow their business without much care about operations, PR & HR kind of supporting Services.
Everything at the JAYAVILLA, is designed to suit freelancers, startups or women entrepreneurs. "The co-working space provides an environment where like-minded people can meet and collaborate in a vibrant manner."
"Come and Work and Leave the Rest to Us' where thy have a backup team of consultants to help with end to end processes. Lakshmi says that start-ups can discuss issues related to HR, Finance, Design and Branding and their team will provide tangible solutions. "We will also act as Friends rather than mentors to the startups and support them through every step of their startup journey," she adds.
Women Entrepreneur turned Madurai Startup Community Facilitator.
While JAYAVILLA was working smoothly,she has already start a journey in 2015 as angel investors. She has decided to support upcoming start-ups and extend their thought leadership to help businesses grow. Lakshmi plan to choose three promising start-ups that have a 'real' business/revenue model and growth potential and plan to connect investors from Global network.
As for their next Plan of action, She reveals that their next co-working space is opening in City Center within the next quarter and will expand to other Emerging Cities as well.
Courtesy : MADURAI STARTUPS
---
[This post by MADURAI STARTUPS first appeared on the medium and has been reproduced with permission.]
Note from TamilEntrepreneur: The views and opinions expressed are solely those of the author and does not necessarily reflect the views held by TamilEntrepreneur.com. We are not responsible for the accuracy of any of the information supplied by contributors.
---